Research reports confirm that the content management system and blog market is booming. Guess who one of the top players is?

...HubSpot.
In our previous blog, The HubSpot Content Management System: Features and Benefits (Part 1), we introduced what a traditional content management system typically includes, and then jumped into some what you get with the HubSpot CMS. We detail the first five features.
In this blog post, we discuss five more.
This is the fifth post in our HubSpot website series with web design guru, Luke Summerfield—Go to Market Lead, Web and CMS at HubSpot. We recently reviewed HubSpot CMS' history, future, migration process, pricing and common concerns as well.
Continued...Hubspot CMS Features & Benefits
As we mentioned in the previous blog, HubSpot has taken the concept of a traditional content management system and really enhanced it by integrating the HubSpot CRM and all of its free marketing, sales, and customer service tools.
It's really so much more than your average website platform and about 4800+ reviewers on the G2 technology reviewing platform feel the same.
Check out one of the 4800+ reviews below:
So again, continuing on from our first post, below are the next set of features we will be going into more detail about.
Advanced Optimization, SEO, & Content Strategy Tools
Reporting & Website Analytics
Content Staging
Local Development Tools
Growth-Driven Design


Advanced Optimization, SEO, & Content Strategy Tools
Some of my favorite features in HubSpot are the SEO & Content Strategy tools, which make optimization super simple.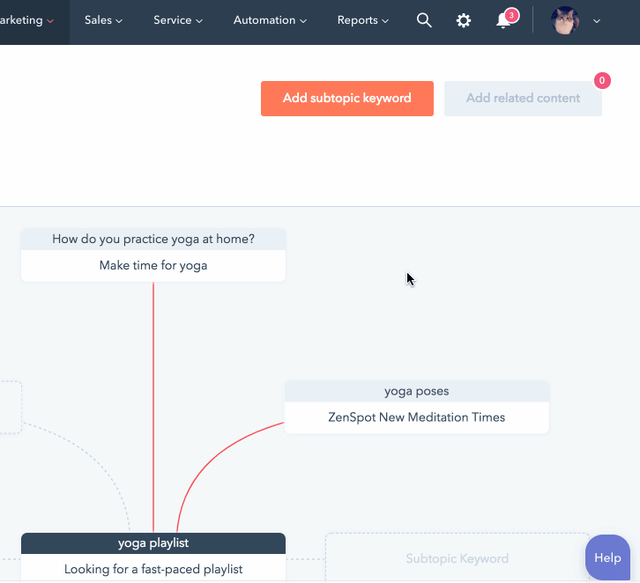 HubSpot has adopted the topic cluster SEO methodology because search engines today reward websites whose content is organized by 'topics' not just 'keywords.' This is an easy task to accomplish now in HubSpot's content strategy tool, where you can discover and rank for broad Pillar Page topics and more specific, niche subtopics.


The tool actually shows you topic suggestions based on relevance, competition, and popularity, as well as monthly search data, so you can estimate how ranking for specific topics will translate to organic traffic gains. In addition, there is a visual content cluster feature that helps you to create your internal linking strategy by showing you what content pieces are linked to each other with a green line. If the line is red, it means the content is not linked yet.


Accomplishing on-page SEO is also a breeze in HubSpot.
When you create blog posts, landing pages, website pages, and emails, there are built-in to-do lists telling you exactly how to improve your optimization; meaning third-party SEO plugins are not required.

Reporting & Website Analytics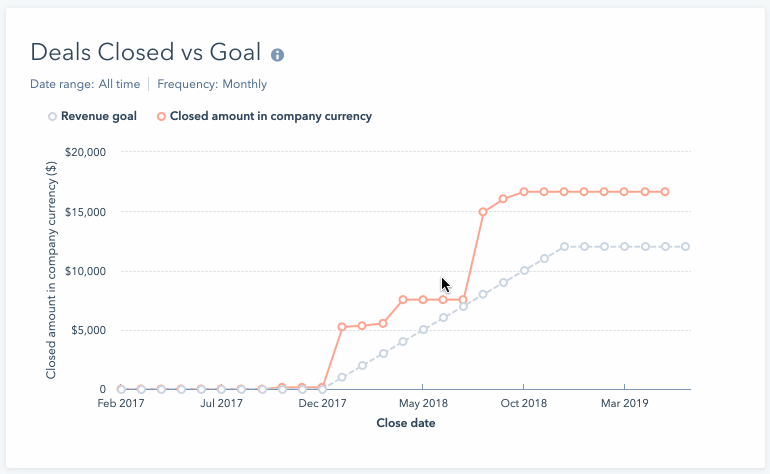 These are game changers!
You can think of the HubSpot reporting and website analytics tools as your guide and how you prove ROI.
This is how you can determine if your marketing, sales, customer service, and website efforts are working, OR if you need to make shifts in your strategies.
You can use HubSpot's default reports to design dashboards for everyone in your organization. These can be the same for everyone, or you can create custom ones for up to 200 people, so they can focus on the analytics they need to know about.
These reports allow you to dig deep into any metric from the marketing, sales, or service tools, any record from the HubSpot CRM, or data from any integrated apps you may be using via the HubSpot App Marketplace.
You can also build customized reports using HubSpot's library of reporting templates, or build your own custom report from scratch using the reporting add-on tools.
With the web analytics tools, you can get deeper insights into how visitors are finding and engaging with your content, and moving from visitor to customer.
HubSpot's website analytics provide information on activity like sessions, traffic, engagement, device types, sources, and more. Below is a list of the reports that appear on the web analytics dashboard by default:
Sessions

Traffic Metrics

Engagement Metrics

Session Sources

New Visitor Sessions by Source

Session Engagement Rates by Source

Device Breakdown
Session Country


Content Staging
HubSpot has what Luke likes to call a 'light-weight' content staging area, where you can take any page on your website, clone the page, and make changes in a non-live staging environment.
In this staging environment, you'll get a preview/staging URL that you can share with people--allowing them to interact with whatever you've built, make any edits behind the scenes, and then publish whenever ready.
It basically takes your existing page, swaps it for the new page, and then archives the old stuff. So, it doesn't delete it. It just puts it in an archive, in case you need to reference it later.
This gives you the ability to make more complex changes, site wide changes, or redesigns a lot smoother.


"For someone like myself (a non-developer) I love our current content staging, because I can do what I need to do, like flip pages around and update things. It also makes my life a lot easier when I'm working with a team to send out preview links, gives them easy access to it, and then with one click...I'm live." - Luke Summerfield


With that said, Luke admitted there is still room for improvement here, as it's not as robust as it could be.
The good news: This is something that the product team has on their radar. Eventually, they'd like to move towards a world where they have a true workflow of development environments, staging environments and a production environment that's live.


"The first step towards this was creating a local development tool, that's now in BETA."
~ Luke Summerfield

Local Development Tools
The cool thing with the local development tools, is that you can actually create an entire site locally on your computer now, a staged site, just in your own local environment.
This can't be shared, virtually yet, but again, it's the next step. And there's a kind of secret workaround. A little hack, you could say.
For folks that want to do a staged site, I would only recommend this if it's a developer who's good with the local development workflow. You can take the local development tools and connect them to multiple portals.
What makes this valuable is that you can manage assets, templates, and modules and apply changes across however many portals you want. You can do this very quickly, with one command.
So developers can get CMS accounts that are free. This is a sandbox account that's got the full CMS features and functionality, the CRM, and all the free tools. It doesn't let you connect the DNS records and turn the site live, but you can do everything else.
So the hack is this. If you have your live HubSpot portal, you could then use the local development tools to pull down all the assets into your local environment and do whatever changes you want. Then push it up into one of these sandbox portals that you could share preview links to.
The preview links are then a type of staging area, like a QA area, and then you can pull it back down, and eventually push it into your live portal.
Luke again admitted that there's improvement to be made here, and reminded us of as of 2019, they have a full time staff of people dedicated to making developers lives better now. So this time next year, development at HubSpot will be on a whole new level.
To learn more about the local development tools and the HubSpot CMS from Luke himself at Inbound 2019, watch the video here.

Growth-Driven Design
And and last, but definitely not least, I couldn't end a discussion about the HubSpot CMS without bringing up Luke's popular, website building and optimization methodology called Growth Driven Design (GDD).
Basically, the main idea behind GDD is that...
"TRADITIONAL WEB DESIGN IS BROKEN." - Luke Summerfield
Whether you just read up on it or take his certification course, you'll learn how to build and optimize a peak-performing website that drives business growth.
This is a super valuable knowledge to have when considering any website design or re-design project, regardless if you are going to be using the HubSpot CMS or not.
You'll learn how to develop a strategy, build a launch pad website, implement data-driven continuous improvement, and gain access to a global GDD Slack community, where you can ask questions and collaborate with the instructors and thousands of GDD practitioners.
Conclusion
Again, we want to thank you to Luke Summerfield for another insightful chat about the HubSpot content management system's features and benefits.
Stay tuned to learn everything you need to know about the HubSpot CMS.
Next, we'll talk about the final features, pricing and address some common concerns about the system.
Do you want to learn more about the HubSpot CMS?
Check out another one of our blogs on this topic, 'All About The HubSpot CMS: The Content Management System for Professionals' by clicking the button below.